This story originally appeared on Neon Tommy.
These days when kids ask, "Mom, can I have it?" they're probably asking for the newest iPhone, not for a miniature library to be installed in their front yard. But after seeing a small library filled with books in front of a house in Van Nuys, that became a must-have for 9-year-old Dylan Berger.
"I wanted to take a book out, but I didn't have a book on me," said Berger, an avid reader of fiction, non-fiction and the "Harry Potter" series. "So I was like, 'Can we start one?'"
The library had a plaque that read: "Take a book, Return a book, Little Free Library." It also included a website, littlefreelibrary.org.
It didn't take much convincing. Berger's mother, Amy Sparks-Berger, a television makeup artist, researched Little Free Library and found there was more to the story than the library in Van Nuys.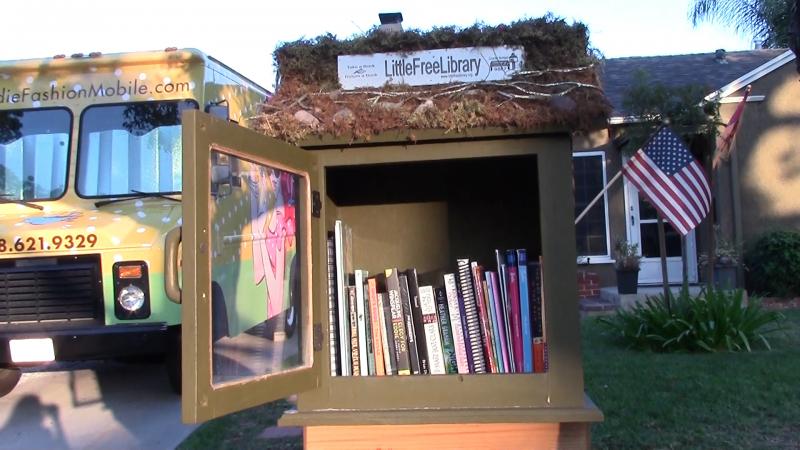 In fact, there are currently 22,000 registered Little Free Libraries in 80 countries, according to Executive Director and First Steward Todd Bol.
Bol created his first front-yard library in 2009 in Hudson, Wisconsin. He modeled it after a one-room schoolhouse in honor of his mother, a passionate teacher and bookworm. After receiving positive feedback from neighbors and friends, he built more libraries to give away.
With a background in international business development in developing countries, Bol could see beyond the initial excitement surrounding the library. He said his last project was to design a model for reversing the nursing crisis that funded 500 nurses' grad school expenses.
The seeds Bol sowed were of promoting literacy and the love of reading as well as building community across generations. After considering names like "Habitat for the Humanities" and "House of Stories," Bol, with Co-Founder Rick Brooks, decided on "Little Free Library." The project became a non-profit organization in May 2012 with the goal of surpassing the number of libraries Andrew Carnegie supported: 2,509. Little Free Library is a growing cultural movement promoting literacy and community.
Most people find out about the non-profit the same way Berger did. Little Free Library, a grassroots marketing scheme, draws on book lovers' desire to connect with others through sharing extensions of themselves—their books, Bol said.
Larry Gassan, a photographer, frequents four Little Free Libraries in his Los Feliz neighborhood. He said that the libraries give him a good idea of what his neighbors have gotten tired of reading.
"American life is so atomized that people didn't know jack about their neighbors. This is just a non-threatening way to get people to stop, get out of their cars, look up from their smart phones and see what's happening," said Gassan, adding, "Everything in this economy is scaled. It's gargantuan. You walk into a supermarket and there are 96,000 types of cornflakes. So a little precious object like that is intimacy. That's what it is."
Reading in the Neighborhood
The neighborhood connection has grown for the Berger family since they installed their Burbank library last November. "I think everybody has really embraced it," said Sparks-Berger, who receives emails and Facebook messages from the library's visitors.
Her daughter also gets feedback, but it's usually from visiting people at the library itself. "I can see who comes from around the neighborhood," Dylan said. "I like to meet new people. Sometimes my friends down the street come and they leave books because their kids like to come."
The Berger family's library isn't just for kids or adults, it's for everyone. The library was a family project. They opted to build it themselves instead of buying a pre-made library from the non-profit. Those typically start around $200. They began by looking for a reclaimed item, like a dollhouse, to fashion their library out of. Nothing they found could withstand the elements, so they decided to build from scratch.
"I wanted to make it look like a cottage, something that looks similar to the style of our house," said Sparks-Berger, who included moss, pictures of the family's favorite book covers and rocks from her dad's river in the design. "I had a picture in my mind of what I wanted it to look like," she said. "So I went from there. I told my husband, 'you build it, I'll decorate it, don't ask any questions.'"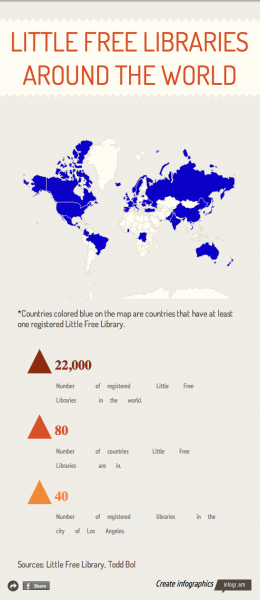 The family made it official by having a ribbon-cutting ceremony and registering their library with the non-profit. To have a registered Little Free Library, "stewards" pay a fee of $35 to receive a packet of information and the official Little Free Library plaque to place on their library. Once registered, stewards can place their library on Little Free Library's world map that has reached the limit of entries Google allows before it starts to charge. Bol said plans are in the works for a better map that will accommodate every entry. For the entries, stewards put personal information like their name, address and phone number on the map, so potential users can easily locate it.
For Sparks-Berger, having her contact information on the internet isn't a concern. "I figure the people going on [the Little Free Library website] are pretty honest people," said Sparks-Berger. "I don't worry about that kind of stuff."
Bol isn't aware of any incidents involving the misuse of stewards' information from the map. "There have been certain people that don't want to put their names," Bol said. "We actually have some people who are big fans and some who don't want to go on the map, who just want to service their community and could really care less if other people knew. But then we have other people who can't wait to be on the map."
Libraries on the Rise
Jane Summers has a Little Free Library in her Los Feliz yard that she created with her friend, Sophie Dick. They also aren't concerned with being on the map. "I imagine all of my personal information is on the internet somewhere," said Summers. "It's nice that it's attached to something which is community based instead of Amazon."
The culture surrounding the library isn't one of fear, but inclusion. The largest problem both libraries have encountered so far has been when people only take books without leaving them. When the pair built their library over the summer they debated over painting it bright yellow or red. They decided on red, a welcoming color.
"Bright red is a good color because it's engaging and you can't miss it," said Summers, referring to their "conversation piece."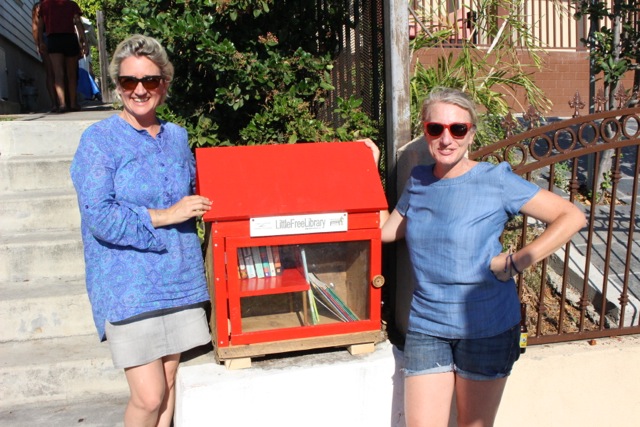 "We've met more people on the street," said Summers. "It feels more like a community when people put more of themselves out there. I think it's a really nice thing."
This phenomenon is one that Bol hears frequently from other stewards. "By nature we are not loners, we are tribal, and we get so much more out of life when we feel like we are helping society moving forward. And we don't have that right now," said Bol. "We don't have confidence in our politicians, our political leaders or our religious leaders."
Even though the non-profit continues to grow, and quickly surpassed its goal of beating Carnegie, he still considers it to be in its infancy. The next goal for the non-profit? To beat McDonald's.
"We are going to be passing McDonald's by 2016," said Bol. "When we pass McDonald's, I want to create a sign that says 'Billions and Billions Read More Books Than Burgers.'"
Recently Bol flew to Los Angeles to meet with David Finkel, a producer for "New Girl", and steward of a Little Free Library. The pair talked about how nice it would be to have books front and center in kids' minds.
"We also talked about how when you say, 'Hello' in our culture, 'Hello, how are you, what are you doing?' it's really like saying 'Blah blah blah blah, let's talk.' So it's really meaningless, meaningless, meaningless conversation," said Bol.
Finkel suggested a change in approach to conversations that would get books front and center in people's minds. They coined the phrase "Whatcha readin?" as the new, hip "hello."
The phrase is slated to be at the center of a new television show, according to Bol, who said that he has received calls from a "major player" in the television industry about it. The show would feature celebrities like in "Got Milk" ads, only better, Bol said.
His dream is to hear the phrase in a café from some 20-year-old guy who is going out of his way to figure out what he's reading to impress the ladies.
So, whatcha readin?